Manila has a population of 14 million. The crowds, heavy traffic, pollution, and the ever rising cost of living and property prices have caused many families to start looking outside the capital for better options for raising their children. One of the best places to move to in terms of quality of life, proximity to commercial establishments, and availability of best schools is Nuvali.
Nuvali is located to the south of Manila. Just less than a couple of hours' drive from the metro, it's near enough to the big city but far enough to enjoy fresh air and tons of space. Called an eco-city for its commitment to sustainable design, the Ayala Land development is 2,290 hectares of everything a family could want – beautiful homes, shopping centers, hospitals, hiking and camping grounds, and the best schools.
This is a guide to some of the best schools in and around Nuvali and their distance from the residential area. For point of reference, let's use the centrally located Seda Hotel Nuvali.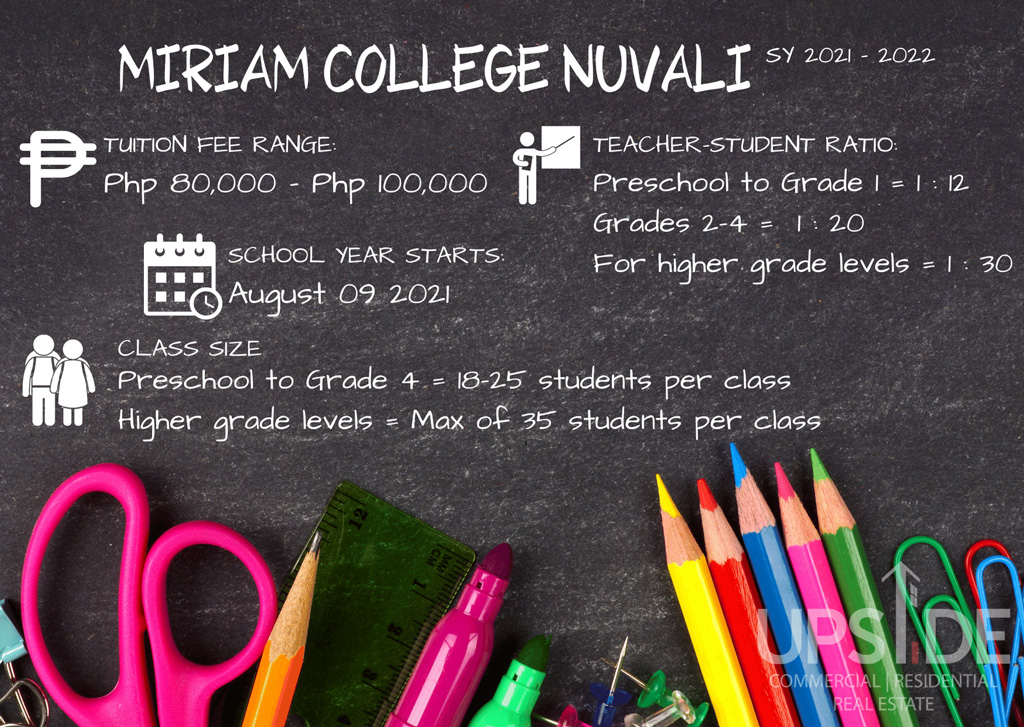 Miriam College is a Catholic educational institution founded by the Maryknoll Sisters of New York in 1926. While it's an exclusive girls' school at their main Quezon City campus, the 15-hectare campus at Nuvali welcomes boys and girls alike.
The campus is expansive and equipped with beautiful facilities. However, because of the pandemic, students have had to attend classes through Google Meet. Miriam College says they have adjusted the school hours so that the students aren't online too long, without compromising their lessons. There are a few face-to-face classes for the higher levels.
Both online distance learning (ODL) and face-to-face classes are a balance between the progressive and traditional styles of learning. Miriam College ensures that their students have fun while learning. Parents will be happy to learn that Miriam College graduates enter the top universities in the Philippines and even countries such as Canada, US, Australia, and Thailand.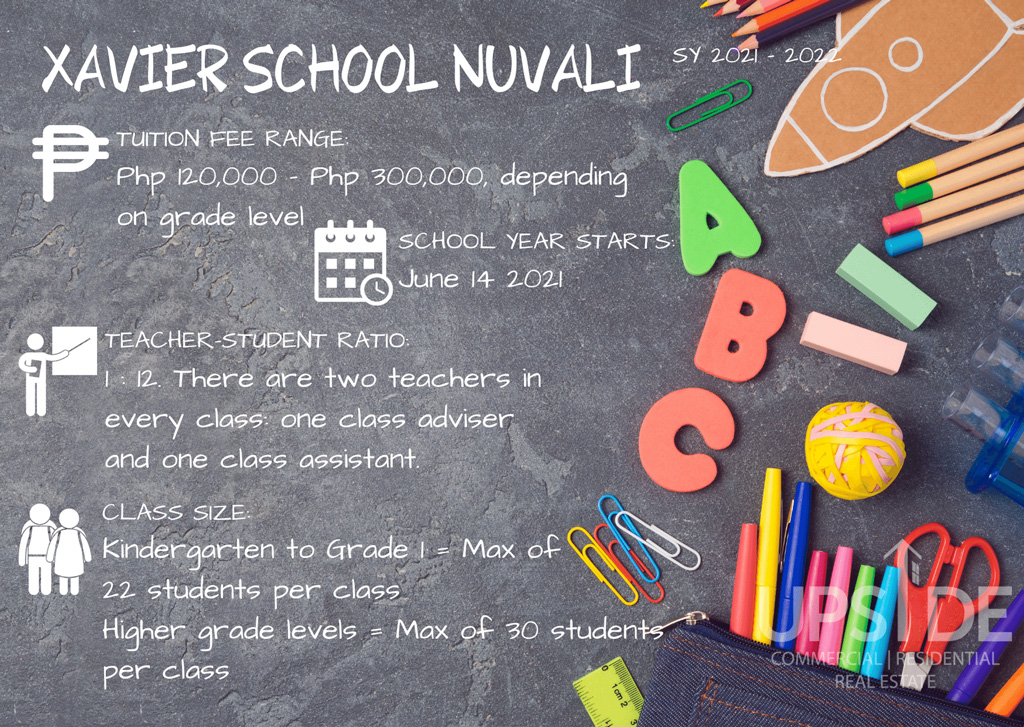 Xavier School is a Catholic Chinese school that offers a three-level curriculum: Early Education, Grade School, and High School. The philosophy of Xavier School is based on Jesuit education, which focuses on a liberal education, strict personal discipline, and a commitment to academic excellence and public service.
Xavier School is also an authorized IB World School that offers the International Baccalaureate Diploma Program (IBDP). This has allowed their graduates to have easier access to universities abroad. Locally, the fellow Jesuit university Ateneo de Manila is the top destination of Xavier alumni.  
The main San Juan campus is an exclusive boys' school but the new Nuvali campus accepts both girls and boys. The students enjoy modern facilities on a 15-hectare campus. Due to the pandemic, the Xavier School E-Learning (XSEL) was implemented temporarily in 2020. For the following academic years, the school will be flexible in implementing online, onsite, or blended learning, adjusting to the public health situation and to the needs of their students.
Location: West Conversation Avenue, Nuvali, Calamba, Laguna
Distance from Seda Nuvali: 4.5 kilometers or 9 minutes
Contact numbers: (+63 49) 576-2560; (+63 02) 8 542-4474, (+63 02) 8 664-0143, (+63 02) 8 576-2560
Email address: [email protected]
Website: https://xsn.edu.ph/
Everest Academy is a Catholic international school that implements Integral Formation®. The curriculum is designed and licensed by RC Education and is a mix of traditional and progressive methods.
Everest Academy values critical thinking and application of knowledge. Teachers encourage learning through hands-on, experiential, and collaborative teaching approaches. There are the traditional tools to assess academic progress like tests, homework, implementation of study habits, order in the classroom, and routines. The structured environment in their classrooms allows for progressive learning strategies to flourish.
Because of the pandemic, there are currently no classroom activities. Everest Academy Nuvali implemented R-LIFE, or Remote Learning of Integral Formation in Everest. The school will continue R-LIFE for at least the first half of the school year 2021-2022. In-person learning and teaching will only be an option once it is allowed, determined safe, and observing all health and safety protocols.
As an international school, Everest Academy graduates are expected to study in universities abroad. For now, the Nuvali campus accommodates students from Kinder to Grade 3. Succeeding grade levels will open in the following years: Grade 4 in 2022, Grade 5 in 2023, until Grade 12 in 2030.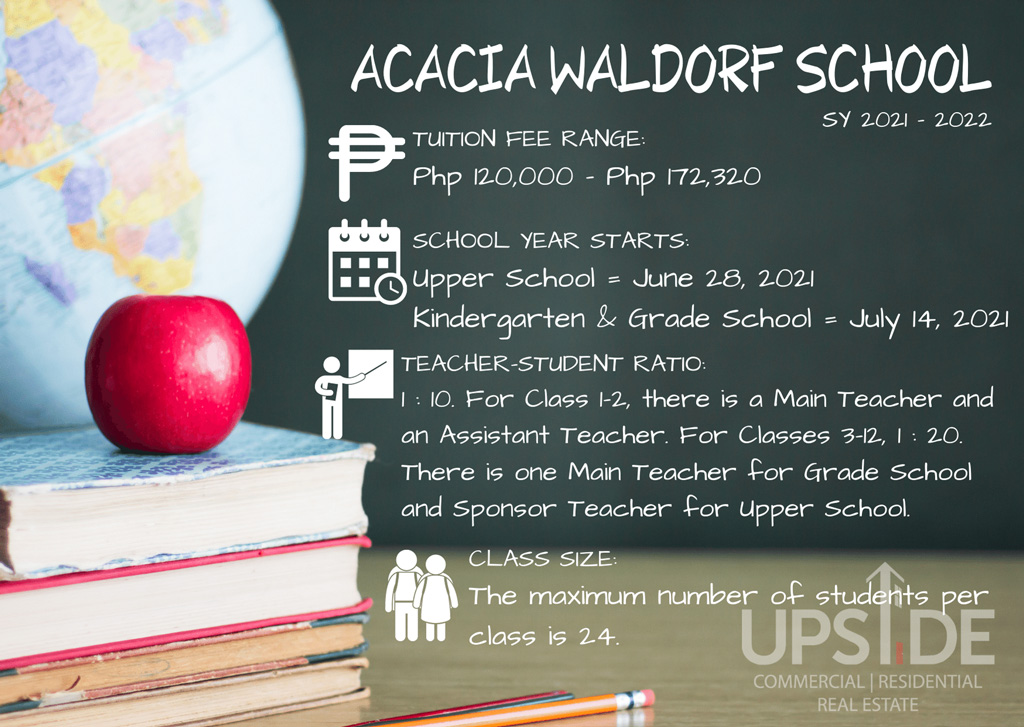 Acacia Waldorf School offers an education based on anthroposophy. This is a spiritual philosophy formed by Rudolph Steiner that emphasizes the development of a child's learning experience through sensory, imaginative, and artistic activities. This is why it was important to place the Waldorf campus in Hacienda Sta. Elena, surrounded by rolling hills, trees, and natural wildlife.
Because of the pandemic, however, Acacia Waldorf is conducting classes through distance learning with a combination of asynchronous and synchronous classes. Most of the students live in the same area so it's easier to encourage the students to explore their gardens and environment for mental and spiritual stimulation and educational instruction.
The Waldorf/Steiner education believes that a child is not an empty vessel for adults to fill with worldly concepts, but as an individual that needs guidance to discover his or her own person. When a child's love for learning is awakened, he or she will consciously engage in society and the world. Acacia Waldorf graduates went on to study in top universities like UP, Ateneo and La Salle. Many have even studied abroad.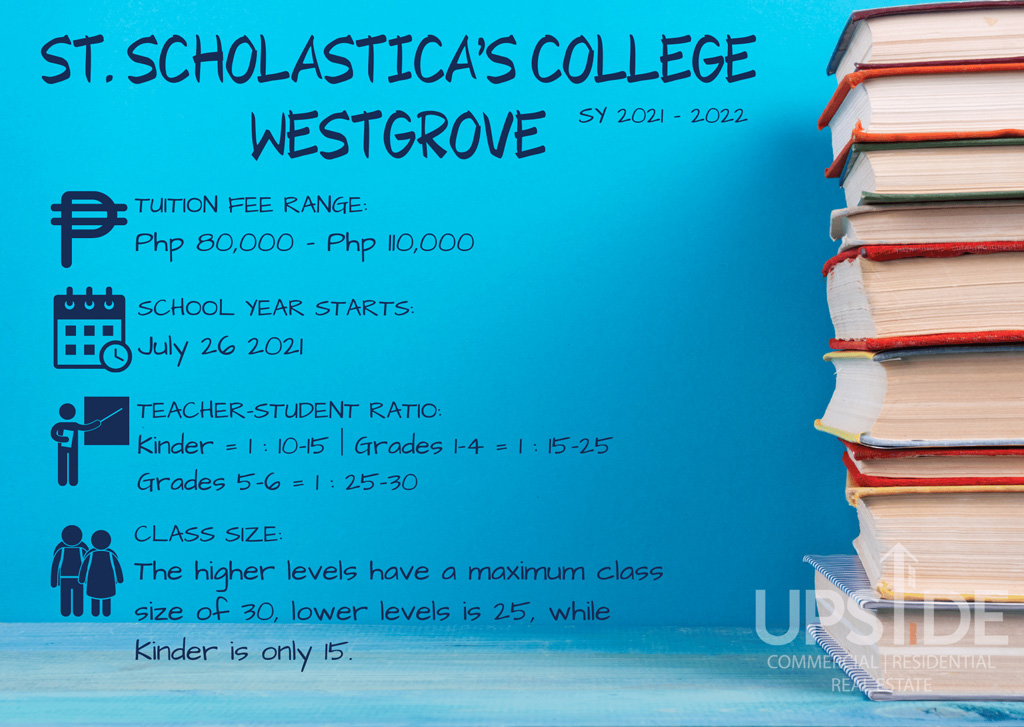 St. Scholastica's College Westgrove
St. Scholastica's College is a Catholic educational institution exclusively offered to girls. Run by the Missionary Benedictine Sisters of Tutzing, the school is devoted to developing Filipino Christian women who are socially oriented and with a deep sense of social responsibility. This is achieved through educational programs with ABM (accounting, business and management), HUMSS (humanities and social sciences), and STEM (science, technology, engineering and mathematics) strands. These programs are not typically offered in girls' schools but St. Scholastica's College firmly believes that an education based in sciences and math and strongly rooted in Benedictine values will create women who practise critical thinking and a properly-developed conscience. 
The St. Scholastica's College Westgrove is a tree-covered campus on a hill. Since the start of the pandemic, however, students have been attending synchronous and asynchronous classes via online distance learning (ODL).
St. Scholatica's College graduates are accepted at the University of the Philippines, Ateneo de Manila University, University of Sto. Tomas, De La Salle University, St. Scholastica's College Manila, and other schools abroad.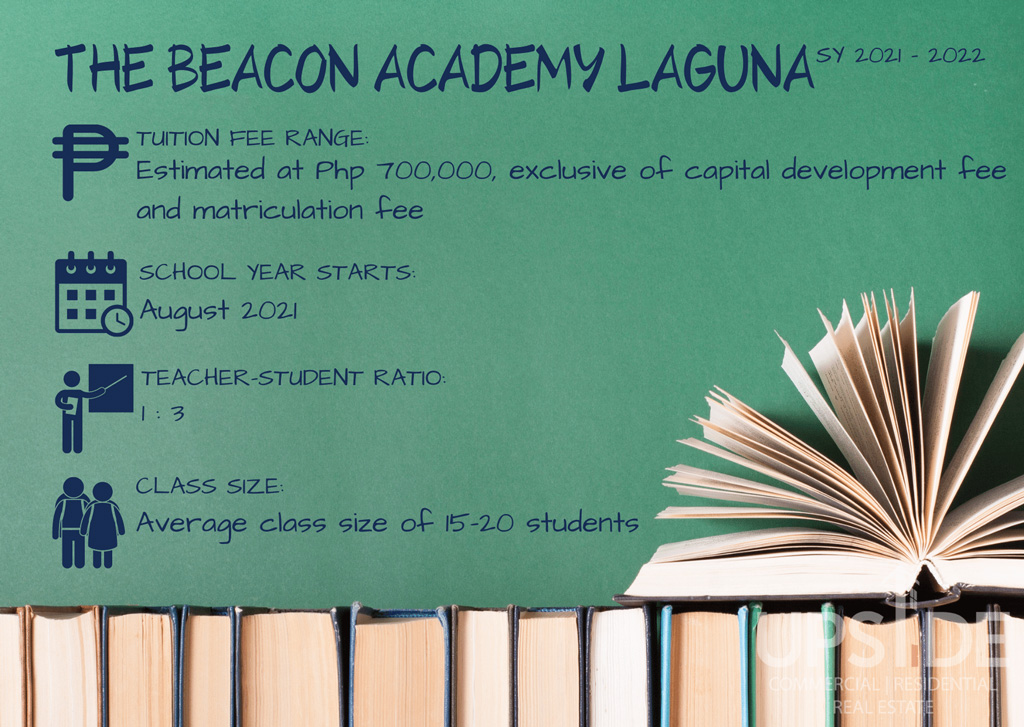 The Beacon Academy Laguna
If your teenagers are looking for state-of-the art facilities, classrooms, and laboratories, plus a football field, an Olympic-sized pool, and basketball court, to pursue academic excellence, their artistic passions, and athletic dreams, then The Beacon Academy in Laguna may just be the school for them.
The Beacon Academy uses a progressive, student-centered method. That means teens are encouraged to satisfy their intellectual curiosity and to make their education their responsibility. Teachers are not there to lecture but to guide students in their search for the answers to their questions. The project-and discussion-based methods of teaching and learning regard students as unique learners and encouraged to be responsible for their own learning. This allows for independent, critical and creative thinking, and—ultimately—a deeper and relevant understanding of concepts and their interrelationships.
The Laguna campus offers only Grades 9-12. Lower grade levels are housed in the Taguig campus. Because of the pandemic, both campuses have had to switch to online distance learning but are prepared to shift into blended learning or regular operations as soon as it's safe. The students are uniquely prepared for the quarantine because of the self-directed learning and personal leadership philosophy and methods utilized by the Beacon Academy.
In fact, Beacon Academy alumni are prepared not just for any college but for the international stage through the rigorous IB Programme of the school. Many Beacon graduates have been accepted in over a hundred colleges and universities in the United States.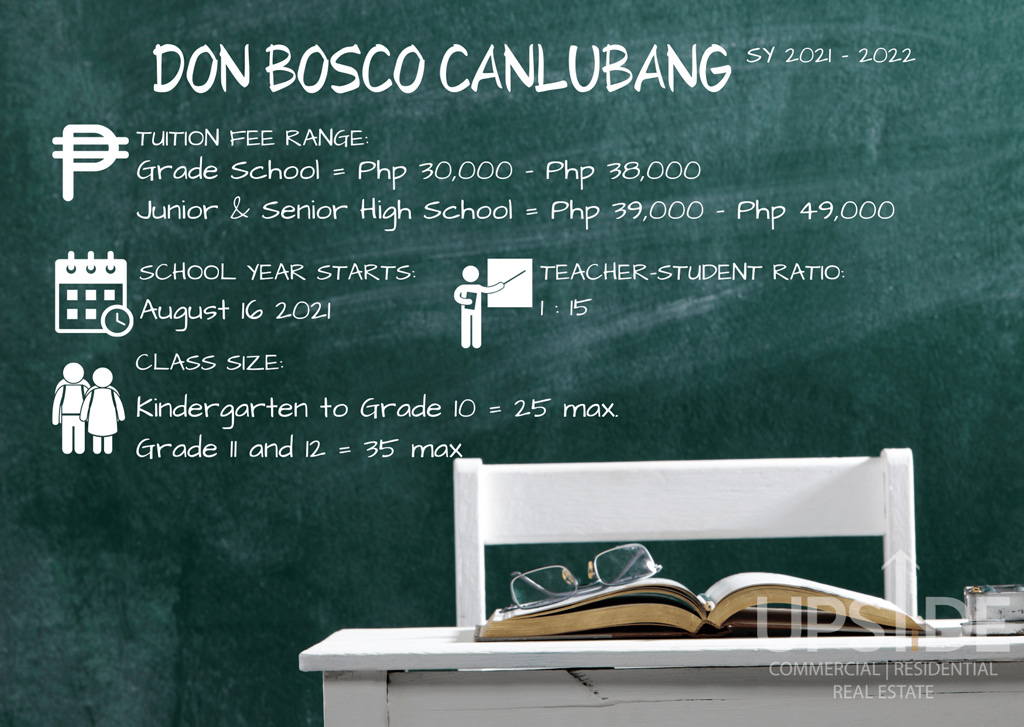 Don Bosco College Canlubang is a 60-year-old educational institution that offers classes from kindergarten all the way to college. They also have technical and vocational training courses. Founded by the Salesians of Don Bosco, or the Society of Saint Francis de Sales, Don Bosco not only offers a solid education centered on academic excellence, a passion for arts and sports, but also leans heavily on teaching technical skills and learning.
Don Bosco College started as a seminary and it is still an exclusive boys' school for Kindergarten to high school. The senior high school is co-educational and offers the ABM, HUMSS, and STEM strands. College is also co-ed.
In response to the pandemic, the online distance teaching-learning modality is used as a method of instruction with health breaks and consultation periods for each learning area.
Don Bosco College graduates continue on to the college but they are also accepted to different colleges and universities like Malayan, Letran, UST, La Salle, and UP.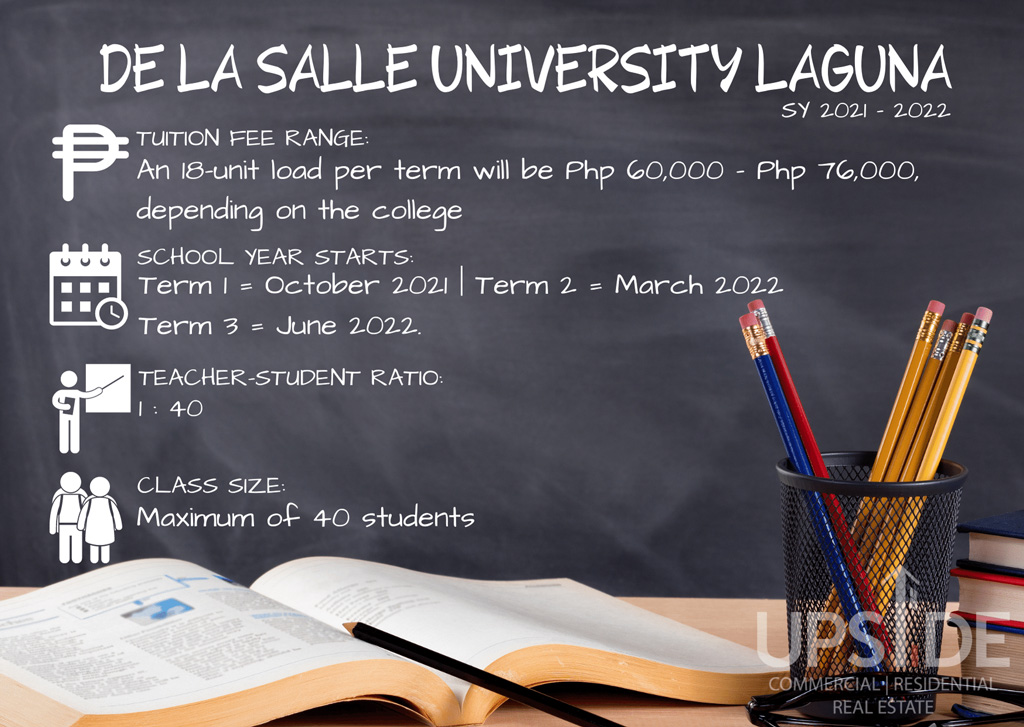 De La Salle University Laguna
The Laguna campus of De La Salle University sits on 50 hectares right beside the Laguna Technopark. Its proximity to the manufacturing and industrial companies attracts undergraduates who want to pursue business, IT, engineering, and education. The DLSU Laguna campus was created to become "a key resource for scientifi­c and technological advancements in the country." State-of-the-art laboratories, high-precision equipment, plus the Philippine home of international gaming company Ubisoft plus a huge campus fitted with a track oval and football field are sure to holistically stimulate the mental, physical, and spiritual aspects of its student body.
The pandemic has forced DLSU to limit campus activities. Lasallians Remote and Engaged Approach for Connectivity in Higher Education (R.E.A.C.H.) is DLSU's response with blended learning on an online platform. Students will also have access to online academic support, psychological and counseling tele-consultations, a student welfare program, and more to ensure academic excellence and mental wellness.
Nuvali is definitely made for your growing family. Shopping areas, fun recreational activities, and the best schools are just a short distance away from your beautiful house. We asked a couple of parents living in the area and here's what they have to say: 
"We moved here four years ago and other than the obvious benefits of life outside of the city such as fresh air, lighter traffic, and a more relaxed pace of life, having so many options for schools really made our transition so much easier. My kids go to Acacia Waldorf School, one of several schools in our area. It's just 15 minutes away from our house so my kids no longer need to wake up at an ungodly hour to go to school in the morning. We get to have breakfast together as a family every single day. There is a school for every preference, so families can really grow and thrive here."
"My boy goes to Xavier and now our twins will try Waldorf. We love this place! There is something so invigorating yet calming at the same time. Kids at school enjoy something very luxurious: space, space and more space!"
"We love living here! So many schools to choose from and so much space and fresh air for the whole family to enjoy. We exercise and run outside all the time. Then when the kids need a beak from school, malapit lang ang Tagaytay. We go to Sta. Elena Fun Farm or Camp N or even Enchanted Kingdom - all of these are in the neighborhood. The kids are enjoying life here!"
"I was a city girl for over 30 years so moving to Laguna was a big leap for me; but choosing to settle in Nuvali was indeed one of the wisest decisions I made. It still feels like I'm in the city, only better, with its proximity to everything I need. The environment is more conducive for families with little kids. Aside from the relatively cleaner air and space where they can run around, I love that there are a number of reputable schools here, some of which are branches of the big names in Manila - Xavier, Miriam, De La Salle, Don Bosco, and more - so good education is still within reach."
Interested in moving to Nuvali? Give UPSIDE® a call at +63917 850 2034! We're happy to find you a new home.
Click here to see this beautiful lot in Riomonte Nuvali for sale.
Disclaimer: Miscellaneous and other fees are not yet included in the tuition fees stated above. Best to inquire directly to the schools for more information.
LET'S CONNECT! LIKE AND FOLLOW US ON OUR SOCIALS: